Return to Headlines
Dear Eagle Heights Elementary Families,
In this season of thanks, we want to take the time to formally thank you for partnering in your child's education! Our students have made amazing progress during first quarter and we are so proud!
Join us for a night of fun at our first family and student SOAR night on
Tuesday, November 13th from 5:00PM-7:00PM
!
We have partnered with Mad Science of Greater Kansas City to feature an exciting science experience. There will also be a student job fair, cardboard arcade, coding opportunities, sessions led by teachers, and opportunities to engineer puff mobiles with the principals!
Don't forget our Turkey Drive that will help assist many families in need during the Holiday season!
Each month, every classroom teacher will give a Warrior Award to a student that shows exemplary characteristics in their classroom. Check out our October Warrior award winners being announced
here
on video!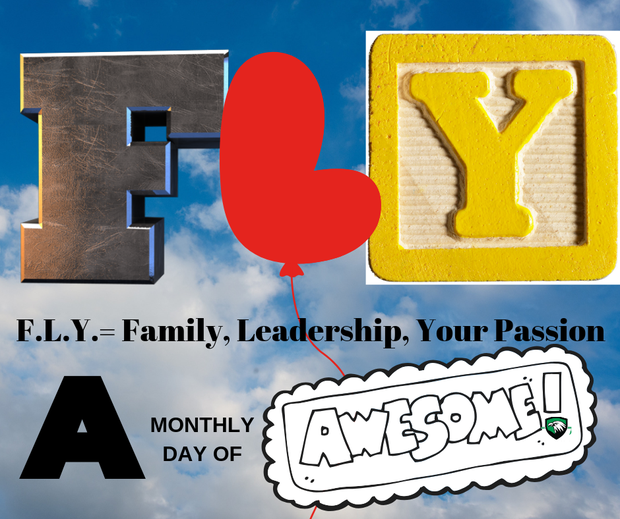 Our first F.L.Y. Day took place on November 2nd. Check out
this video
for a peek inside F.L.Y. time.
School Family Time
Strong teacher-student relationships shape the way children think and act in school. When teachers and students have a good relationship, students are more likely feel positive about class and school in general. They are also more willing to try difficult tasks, risk making mistakes, and to ask for help when they need it.
Source: Hattie, J. (2009). Visible Learning: A Synthesis of Over 800 Meta-Analyses On Achievement. Routledge.
John Hattie
Every student at Eagle Heights Elementary will have an opportunity to engage in multi-age school family groups. This group will consist of fifteen kindergarten through sixth grade students that will create a small school family for their career at Eagle Heights Elementary. Students will meet with their school family monthly. The goal will be relationship building, mentorship, leadership skill development, and problem solving. School family time is teacher led. The first muli-age leadership lesson involved ways to be proactive at school and home.
Leadership Opportunities
Every student at Eagle Heights Elementary will also be able to hold a leadership job!
Students and families are invited to a job fair and curriculum night on

November 13th from 5:00-7PM

to learn about each job!
Students will be able to apply for a job at the job fair and at school.
Your Passion Time
When can students learn about things that they really want to learn about? What is your child's passion? Students are currently being polled to see what they want to explore! Multi-age groups will meet monthly to explore passions and learn 21st century competencies.
We are looking for community partners that have expertise in these areas:
Painting, Dancing, Music, Legos, Puppets, Youtube Creator, Science, Singing, Drumming, Stop Motion, Football, Basketball, Team Sports, Cooking, Jewelry Making, Legos, Games, Coding, Photography, Cup Stacking, Decorating, Video Making, and Science and Engineering.
School Start Time:
8:45 a.m.
(
Monday
,
Tuesday
,
Thursday
, and
Friday
)
School End Time:
Students being picked up by parents and students riding the buses will be dismissed at
3:35 p.m.
Birthday treats must fit the healthy snack standard in order to be served at school.
Please keep in mind that you can order birthday treats from OPAA to ensure that they fit the smart snack standard. Please contact
CurtisA@smithville.k12.mo.us
for ordering.
Homemade birthday treats will not be permitted. Please see the list below for ideas for healthy snacks that may be sent for birthday treats:
The Healthy Hunger-Free Kids Act of 2010 directed the USDA to establish science-based nutrition standards for all foods and beverages sold and/or served to students in school, during the school day. Smart Snacks in School Beverage Standards can be found
here
.
Our mission is to be awesome for kids and in turn be awesome for our community! If you need anything or have questions, please reach out! Together we make a great team!
Mrs. Carroll Mrs. Schrage
Assistant Principal Principal
Nov. 12: Veteran's Day Lunch
Nov. 13
: EHE SOAR Night
5:00PM-7:00PM
Nov. 14
:Late Start
Wednesday
, K-6 students may arrive at
8:50 AM
, School begins at
9:05 AM
, No EC Classes
Nov. 15
:PTO Meeting @
6:30PM
in EHE Library
Nov. 21-23
Thanksgiving Vacation-No School
Nov. 27
:Major Saver Fundraiser Final Collection
Nov. 28
:Late Start
Wednesday
, K-6 students may arrive at
8:50 AM
, School begins at
9:05 AM
, No EC Classes
Nov. 30
:EHE Leadership Hour -Warriors Connect
Follow Eagle Heights PTO on Facebook!