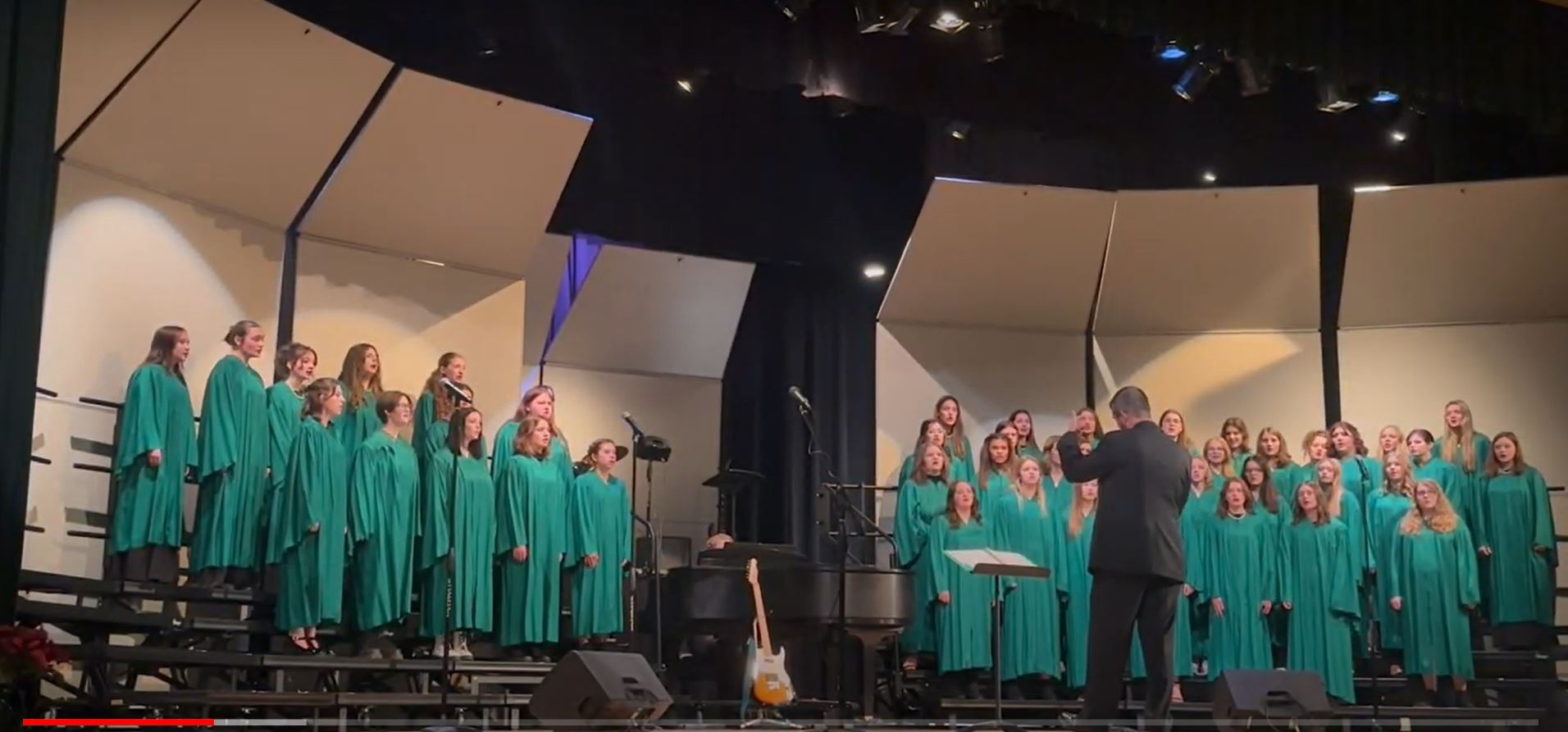 Choirs meet as academic courses during the school day. Course Description:
Students will explore choral literature from a variety of genre and time periods. Mixed Choir will focus on music composed or arranged for mixed voices, but may also be combined with other ensembles to perform music for men's voices or women's voices. Women's Choir will focus on music composed or arranged for women's voices. Concert Choir shall focus on music for men's voices. All groups may be combined to perform music for mixed voices. The Lakeside Singers will perform music for a variety of voicings with a special emphasis on vocal jazz and a cappella singing.
NON-AUDITIONED CHOIRS
Currently, all non-auditioned choir members are in a Mixed Choir class. Based on future enrollment, non-auditioned choirs may be split into Men's and Women's choirs. There is no prerequisite, except for a desire to sing and learn about music.
Students will explore choral literature from a variety of genre and time periods. Instruction will center on the fundamentals of proper choral singing, music reading skills, overall musicianship, and responsibilities of a choral ensemble member. Students are required to perform with the ensemble outside the school day! (There is typically a concert near the end of each semester.)
"SELECT CHOIR" PROGRAM
Students who desire to work hard may audition a "select" choir. Auditions normally consist of a short, unaccompanied solo (like the early rounds of American Idol) of the student's choice. Also, there may be 2-3 exercises where the students will be asked to echo back a few pitches played on the piano. Students would typically audition in late January in order to be placed on the correct class roster for the following school year.
Students who audition may be placed into Concert Choir or Women's Choir. Students selected to these ensembles are eligible to audition for the Lakeside Singers. Typically, this audition consists of a short sight-singing exercise.
Students involved in "Select Choir" will have more opportunities to use their talents. In addition to the Winter and Spring Concerts with the non-auditioned choirs, we will present additional concerts at school. We also participate in District/State Festivals. Students also have the opportunity to sing in small groups and as soloist at District/State Festivals. Many "select" choir students audition for honor choirs including the NW Missouri All-District Choir and Missouri All-State Choir.
The "Lakeside Singers" typically perform even more. We attend at least one competition as a Jazz Choir. We often are out in the community with Christmas caroling and other small concerts throughout the year.
FALL MUSICAL
Choir members are strongly encouraged to participate as the Vocal Music Department supports the Theatre Department production of a Broadway-style musical each fall. Besides singing/acting roles, there are also always opportunities for students to help with stage crew, technical aspects, and production tasks.
CONCERT ATTIRE POLICY
Ladies ...are expected to "dress up" for performances. A conservative, professional look is desired. (The school dress code is obviously in effect in regards to amount of skin showing.) Flip-flops are NOT appropriate footwear for performances.
Men ...are expected have a button-up dress shirt & necktie, slacks and appropriate dress shoes for performances. Jeans and/or tennis shoes are NOT acceptable.
Women's Choir & Concert Choir ...will use choir robes for most occasions. Robes should be returned to closet in choir after each performance.
Lakeside Singers ...will be responsible for purchasing or providing some items for concert attire. Details provided in class.
If for any reason there is a problem with the required dress for performances, please inform the instructor as soon as possible so that the problem may be alleviated. Uniforms provided by the school remain the property of the school. If such uniforms (i.e. robes & stole, vest & tie) are not returned or are returned in disrepair, the student will be liable for replacement costs.
DAILY EXPECTATIONS OF AN OUTSTANDING MUSIC STUDENT
Be on task as soon as the instructor is ready.

Stay on task for the entire class time--eliminate distractions.

Have the proper materials ready, as indicated by the instructor.

Display a positive attitude towards the class regardless of distractions.

Work to ACTIVELY involve yourself in all classroom activities.