Warrior QuickNews Archive: October 2019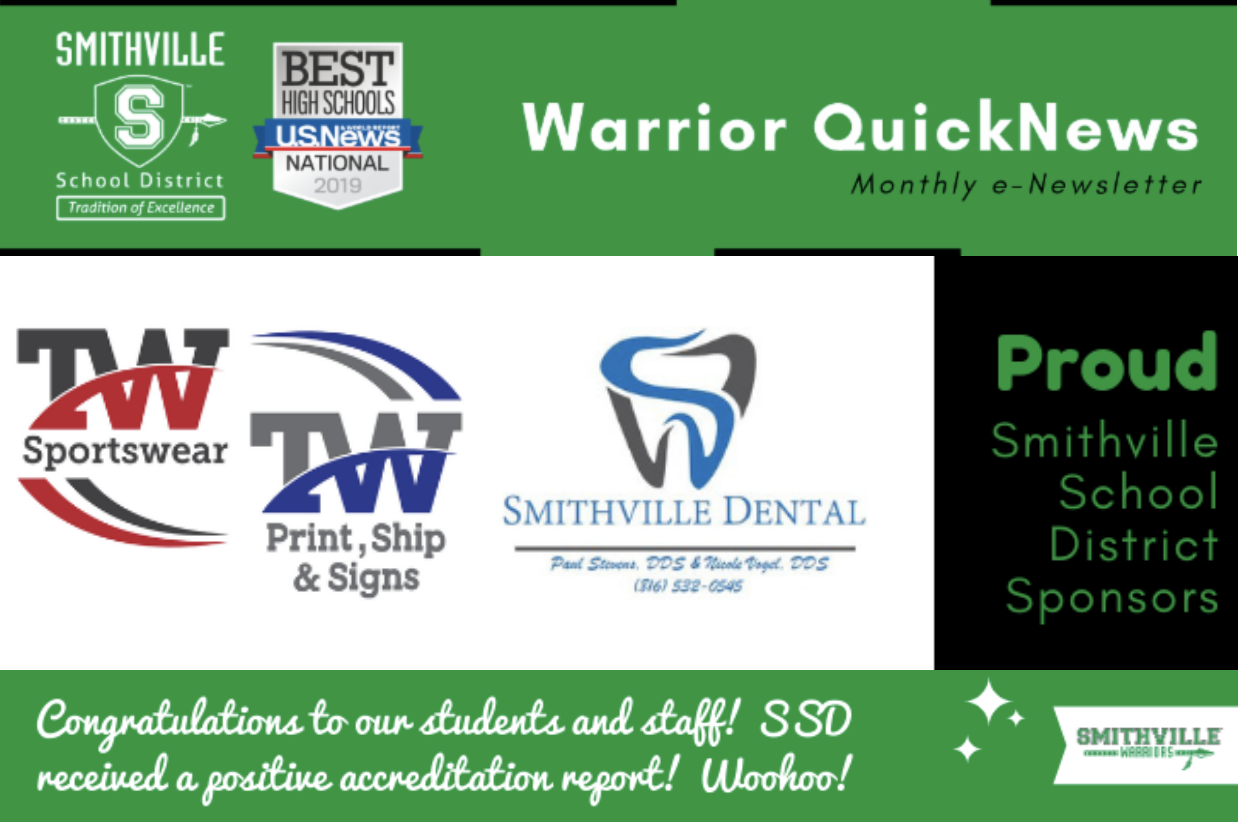 Smithville School District Received Positive Accreditation Report
The Missouri Department of Elementary and Secondary Education (DESE) released the Annual Performance Report (APR) which is used to determine the district's accreditation status. As in the past, Smithville Schools are fully accredited, and there are many strengths and celebrations revealed in this year's report.
In the area of Academic Achievement, which at this time is based entirely on the end-of-year Missouri Assessment Program (MAP) tests in English language arts and mathematics, the district has demonstrated growth in individual student achievement that has exceeded statistical expectations for both our student population as a whole and our subgroup. Inclusion in the subgroup is based upon socio-economics, race, disability, and native language. In addition, the district's three-year average of performance is "on track" according to DESE's measures in all areas except English language arts for our subgroup.
Check out the entire news release here.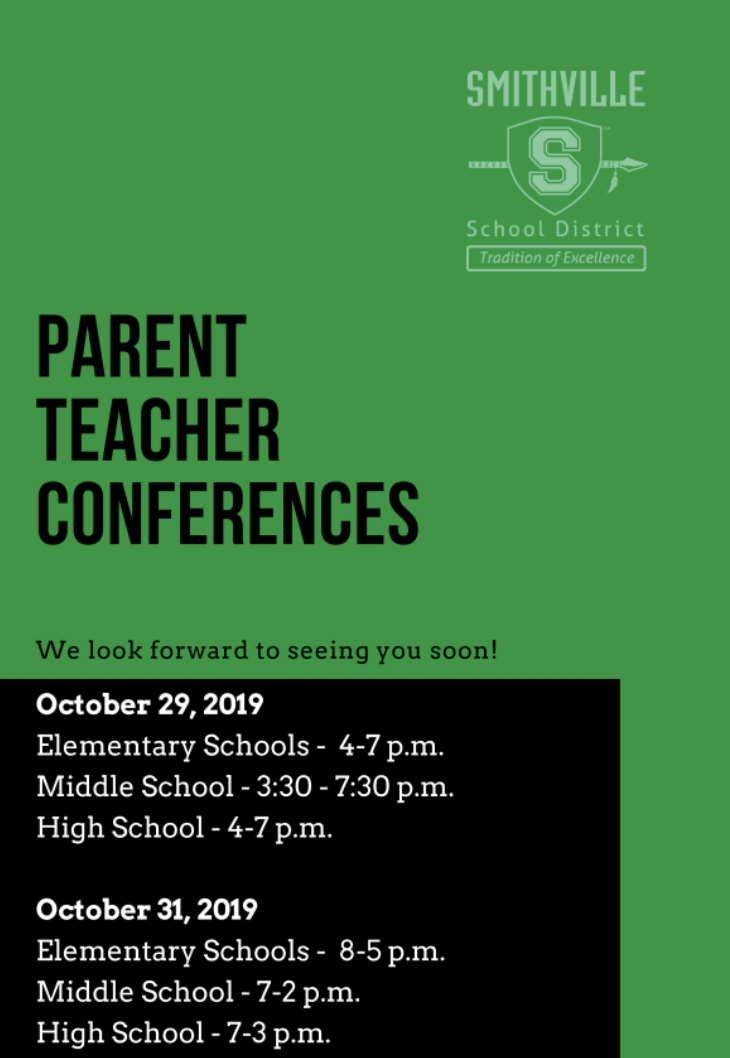 These are the highlights from the October 16th meeting of the Smithville School District Board of Education (BOE).
CONSENT AGENDA ITEMS
The Board approved the following consent agenda items:
Approve Bills for Payment

Supplemental Pay

Kagan Cooperative Learning Letter of Agreement

Hillyard CCAP Agreement

Out of State Trip Request
COMMUNICATIONS
Horizon Elementary Presentation
Ms. Denise Harwood introduced students and staff who shared information on Assessment Capable Learners to the Board. The focus thus far has been on writing clear learning targets, student analysis of strong and weak work, providing effective feedback, and utilizing self-assessments.
The presentation began with Ms. Emilie Meyer and her fifth grade students Wyatt Gates, Rielle Edwards, and Teegan Chapman who shared an example of using NWEA data to set goals. In addition to NWEA data, her students also evaluate their individual progress toward mastery of academic standards by "Taking Stock" of their level of understanding and mastery and using that personal assessment to set goals and measure growth.
MacClaine Desmond and Ms. Elaine Stewart shared how second grade is using scoring criteria in writing to set goals and measure individual progress. These goals are placed on the top of student's desks so that they are always visible and accessible.
Lastly, Ms. Paige Scheibe and Neva Rash, first grade, shared their student-created scoring guide for Technology and Innovation to help gauge student understanding of the design and planning process. Neva shared that having the scoring criteria "helps me learn better".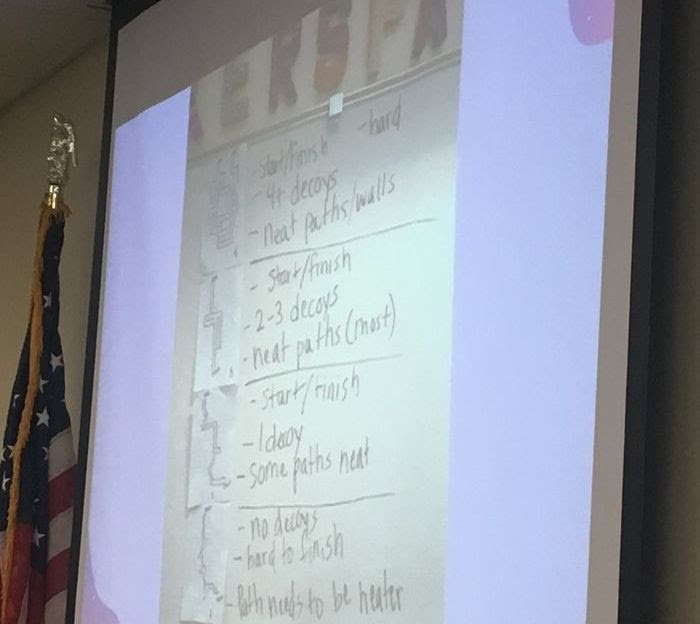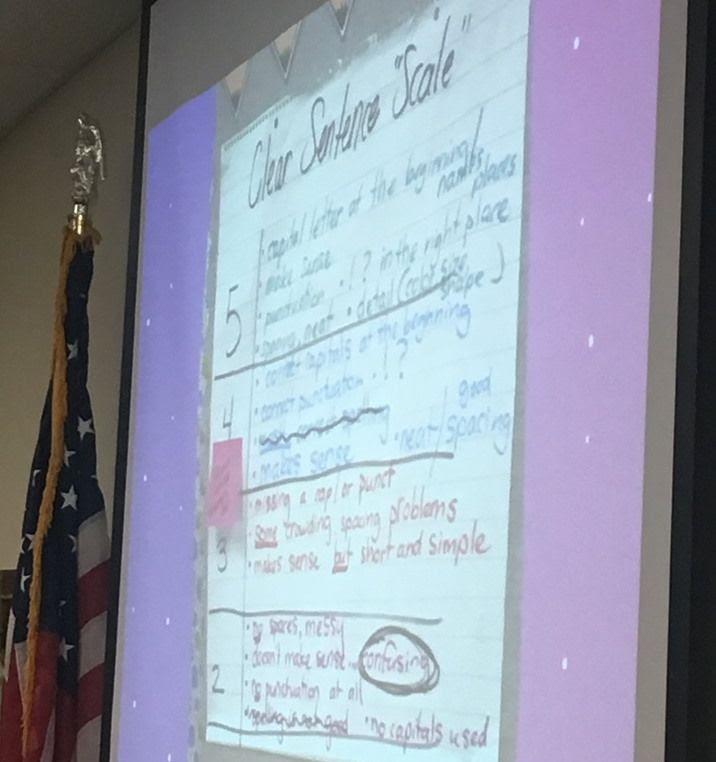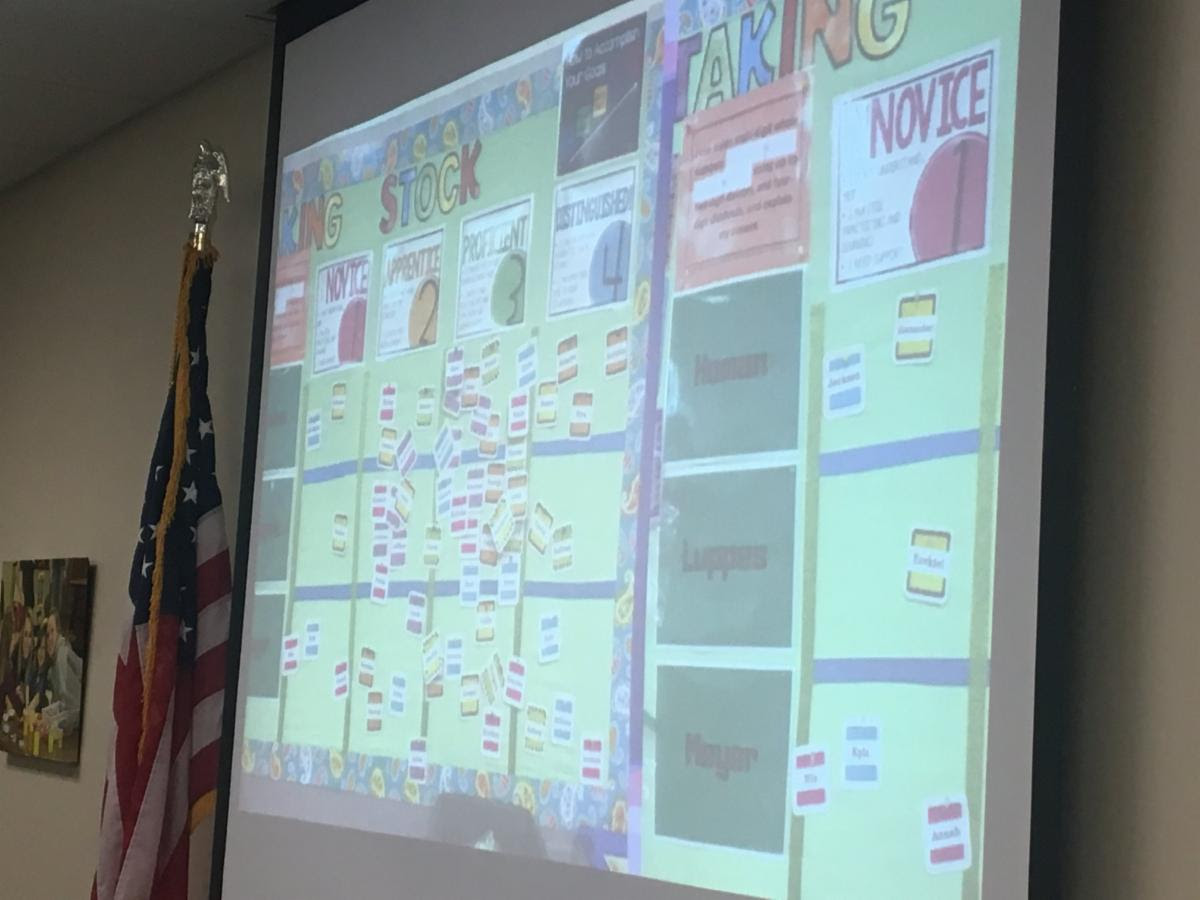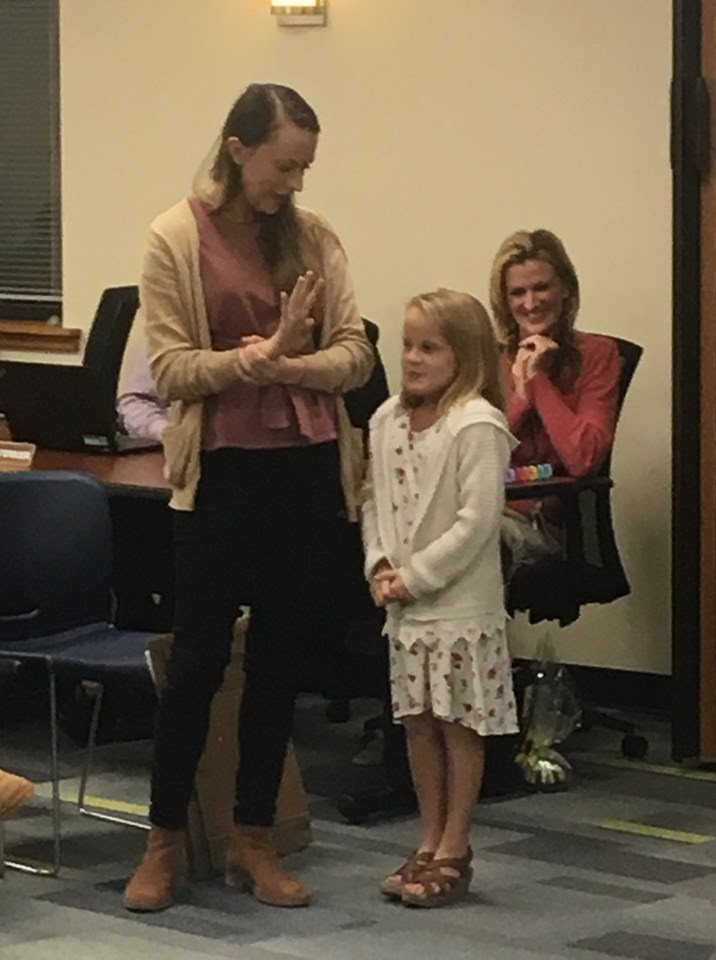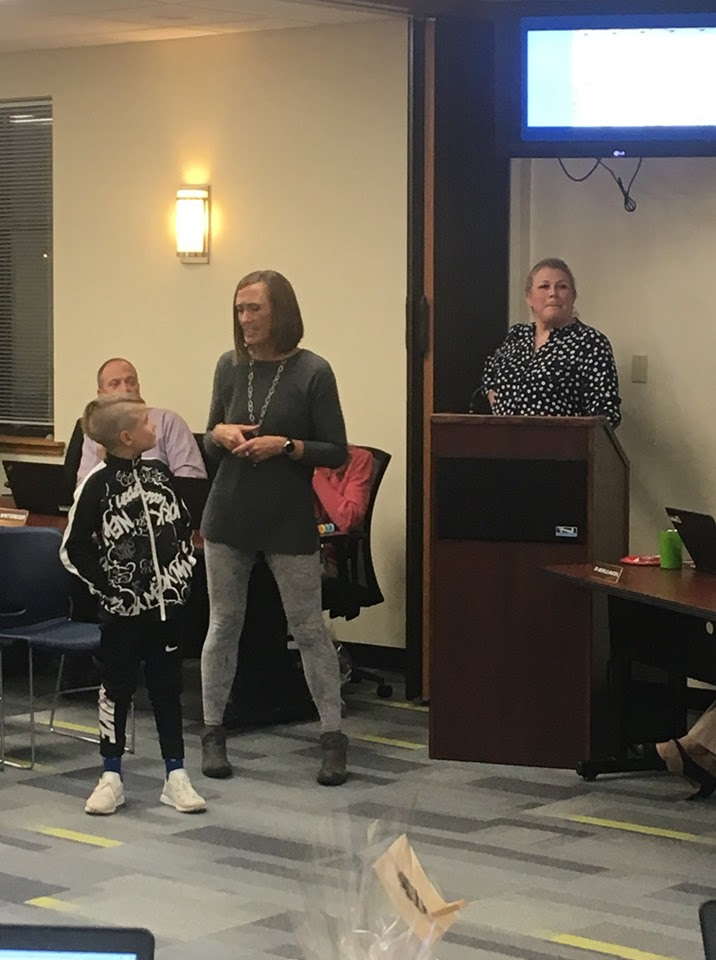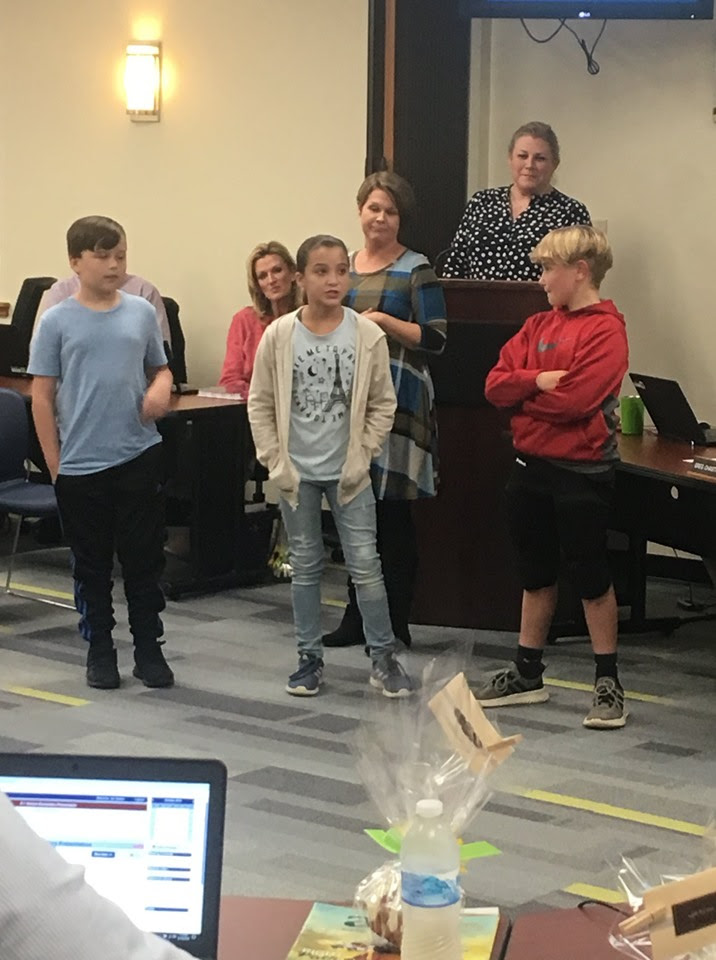 Board Priorities
Mrs. Ambroson updated the Board on our efforts to develop a vision for our pre-K programming. (BOE Priority #6)

A Key Communicator meeting took place at Maple Elementary on October 8, 2019. (BOE Priority #1)

The third and final meeting with DLR took place on October 10, 2019. (BOE Priority #2)

A "stoplight report" has been prepared from the first several weeks of rounding. (BOE Priority #3)
Comments from the Assistant Superintendent from Support Services
Mr. Wayne Krueger
Mr. Krueger reported that on Wednesday, September 25th, the district's official K-12 enrollment was 2647 or up 49 students (1.89%) over last school year. The largest class in the district is the current junior class which has 239 members and the smallest is second grade with 170 members. Based on the count date, enrollment data have been plugged into the district's Cohort enrollment projection tool which predicts slight continued growth over the next five years based on current known data. Mr. Krueger also shared that according to the City of Smithville, housing permits are down as compared to 2018, to date there have been 33 housing permits issued as compared to 184 in the previous year. Commercial permits are up in 2019, there have been 3 to date.
Mr. Krueger also shared that the district's annual secretary to the board financial report has been certified by the Missouri Department of Education for FY19 which ended on June 30, 2019.. In FY19, the district received $31,918,526.87 in receipts and expended $37,481,814.98 in all funds which includes the final expenditures for Phase VI construction. The district's unrestricted fund balance on June 30, 2019 for funds 10/20 totals $4,779,975.87 or 17.12% of the total budget. New for FY19, DESE has released per pupil expenditures by building location and source (local, state, federal). For the Smithville R-II School District, the average cost to educate a child is $10,312.44
Finally, a mobile unit from the Middle School was relocated to Eagle Heights on Wednesday in two sections. It is anticipated that the unit will be assembled by the end of the week; however, there are no plans at this time to use the unit on a regular basis until next school year.
Comments from the Assistant Superintendent from Academic Services
Dr. Michelle Kratofil
On our September 30 professional development day, Dr. Kratofil presented information to staff to help them identify biased language and four strategies to enable them to intervene when biased language is used in school. This addresses the Board Priority regarding diversity and inclusion.
Science MAP data was released today. At this point, we only have proficiency levels for the grade levels tested. APR data related to science should be released soon as should comparison data with other districts.
The district will be able to release the 2019 Annual Performance Report which is used to determine the accreditation status of the district. The data used in this determination includes academic achievement, attendance, graduation rate, and college and career readiness.
Lastly, we have received the composite ACT for the graduating class of 2019. We are proud to announce that our most recent graduates earned a composite of 22.5!
Comments from the Audience
Erika Stiles addressed the Board regarding Random Student Drug Testing. She referenced statements by the American Academy of Pediatrics regarding the detrimental impact of labeling students in the educational setting and the potential impact on a student's future. In addition, she cited the Cambridge Handbook of Applied Psychological Ethics which emphasizes the importance of considering the environmental causes of behavior first and foremost when intervening on behalf of students. Ms. Stiles maintained that there is no research that definitively supports the benefits of drug screening for students and asked the Board to vote against Random Student Drug Testing.
Ruth Dickinson also addressed the Board regarding Random Student Drug Testing, specifically in respect to 4th Amendment rights. She referenced the state of Washington in which it has been found that Random Student Drug Testing is a violation of individual privacy rights. She emphasized the potential pitfalls of "suspicionless" drug testing. In addition, she encouraged the district to continue using education to combat this problem in our schools.
PROGRAM EVALUATIONS
The district library media specialists prepared a report for the Board regarding the current status of our library program and considerations as we move forward. Ian Saxton asked about the greatest opportunity for growth. Julie Winterboer, high school library media specialist, responded that the library responds to the informational needs of society and students which is unpredictable. One aspect that must always be considered is evolving technology. Regardless of societal changes, however, they will always be promoting the love of reading and skills related to research. Len Matthias inquired about the average ages of the collections. Lisa Guess, middle school library media specialist, responded that many times the average age is influenced by non-fiction titles that she does not want to eliminate at this point. She added that the focus of all library media specialists is to meet the needs within their building. Ellen Sumerall, Horizon library media specialist, shared that the elementary libraries circulate a lot of non-fiction titles and eliminating them is not an option. Teresa Kathcart, Maple library media specialist, commented on the importance of promoting the love of reading and supporting the integration of technology. The skills they teach are so important to future success in school and in careers. Mr. Saxton asked about the differing technology in each building cited in the program evaluation. Lauren Bennaka, Eagle Heights library media specialist, responded that each building has used budgets, Donors Choose, PTO funds and book fair proceeds to individually fund the technology needs of each building. Ms. Kathcart added that the transition to K-6 buildings have left each library needing to evolve and in some cases catch up. Russell Fries contrasted technology in schools to technology in business. In business, technology investments result in cost savings whereas technology investments in schools do not have the same effect. Ms. Kathcart shared that the need for everyone to access technology is important so that research databases can be utilized by all students. Both of those items - the device and the database - are essential and carry additional expenses. Ms. WInterboer commented that yearly database subscriptions provide many more resources than we could purchase in print for the same dollars. The district library media specialists and administration will meet next week to review research, develop a vision for the library program, and begin to draft a strategic plan.
OLD BUSINESS
During the month of September, we received $1,474,984.74; making a total of $4,003,038.01 received since July 1, 2019.
Expenditures for September were $2,883,386.49 making a total of $6,727,134.55 expended since July 1, 2019.
Patrons can access the revenue report, expenditure report, and check register for the district on the district webpage under Departments and Business & Finance.
The current district enrollment is 2,658.
Employees exiting the district are provided an opportunity to complete an exit survey. The survey data is presented in the aggregate to building principals and district administration. The Board received a summary of the results. The three most common reasons for leaving the district last year were 1) promotion or advancement in another district, 2) similar position in another district, and 3) personal (not job related).
At the BOE meeting on September 18, the BOE asked for financial data as related to Board Policy DIAA and the current FY20 budget. Mr. Krueger provided the Board with ten financial data points to consider as they continue to discuss Board Policy DIAA. Mr. Saxton asked if 18% reserve balance would be sufficient. Mr. Krueger responded that 18% would be a healthy reserve balance. Denney Fales asked about the potential ballot issue that would allow the district to transfer funds from debt service to operations, specifically if there is a limit to the amount that could be transferred. Mr. Krueger responded that there is a balance that must be maintained in debt service which does create a limit on what could be transferred to the operations. Mr. Saxton suggested that the Board may need to consider adjusting policy to better reflect the reality of the district. Mr. Fries shared that he has been considering that too and provided the history/context of the establishment of this policy. He commented that 21-26% may not be the most appropriate range. He expressed concern about the cuts that may be required to meet the parameters of the policy which is not in the best interest of staff and students. Mr. Fales commented that moving the number does not address the real need, which is increasing revenue to meet the growing needs of our community.
Early Separation Incentive Plan
Based on a review of the data we have available, if all presumed eligible staff members participated, we could save approximately $113,000. With more participants eligible last year, we saved about $135,000.
The Board approved the Early Separation Incentive Plan for this school year.
Board Resolution for State Audit
The ExcellenceK12 survey suggests that the community has a positive perception of the district's management and fiscal practices. We are informed, however, that the group calling for a state audit continues to collect signatures. Mr. Saxton commented that we have strong student achievement, the Board is addressing the budget issues, and we are providing transparency regarding finances. He suggested that the group come to the Board and collaborate so that solutions can be developed that will not take funds from our students and classrooms. The Board did not take action on this item.
Random Student Drug Testing (RSDT)
Dr. Platt was present to share the recommendation of the committee.
The ExcellenceK12 survey suggests that roughly 50% of our community supports a RSDT policy, 40% are opposed, and 10% are undecided.
Mr. Saxton shared that perhaps we need to consider another approach to address the whole child in this situation. He expressed concern with the feedback from the community being so split. Mr. Keifer echoed that sentiment. He expressed concern with the inconclusive research on the topic and also cited school personnel and students with whom he has spoken who have been a part of such policies without positive results. He suggested that we need to provide character education to empower our students to say "no" to all of life's poor decisions which would be more helpful throughout their lives. He thanked the committee for their work on this topic and acknowledged that the best interest of students was always their intent and concern. Sarah Lamer concurred. She expressed that the committee did a wonderful job bringing to light the issues within our community. She acknowledged that we have work to do but is not convinced Random Student Drug Testing is the best approach. Mr. Matthias also expressed that he believes a different approach to empower kids is needed. Mr. Fales referenced current policy that goes beyond the requirements of MSHSAA and that our internal practices are inconsistent. He suggested that work needs to be done with what we currently have in place. Mr. Fries commented that he has vacillated on this issue over the past several months. He cited the testimony of parents on both sides as compelling but the difference for him was research presented to the Board which was inconclusive on the effectiveness of this practice. With the results of the Excellence K12 survey which shows our community is completely divided on this issue, he does not feel it appropriate to contribute any more to this divisiveness.
The Board chose not to act on this agenda item.
NEW BUSINESS
Excellence K12 Survey Results
The preliminary results from the community were shared with the Board. Mr. Fries suggested that the Board take some time to thoroughly review the data presented. Representatives from Excellence K12 will be at the November meeting so that the Board can present them with questions.
The second budget revision assumes a budget surplus of $8,357 based on current assumptions for receipts and expenditures. For all funds, it is anticipated that receipts will total $33,018,282 and expenses will total $32,775,383. The Board approved the budget revisions.
The first reading of the 2019B policy revisions were approved by the Board. The second reading will occur at the regularly scheduled Board meeting on November 20.
The Board approved personnel items as presented.
MSBA Recap
Mr. Keifer expressed appreciation for the opportunity to attend the conference. Mr. Matthias appreciated learning how other districts deal with issues similar to ours. He also shared about a district that has established a student advisory group that interacts with the local school board to help make the school a better place for the students. Mr. Saxton attended a session on early childhood which highlighted a district in the St. Louis area that came up with unique funding structures for their program. Ms. Lamer shared about a session featuring a middle school principal who re-energized her staff by focusing on self-care for an entire school year. Mr. Fries attended a session on district communications and on a local district's efforts to creatively address facility needs. He also attended a session in which the Baldrige model of strategic planning is implemented in a neighboring district.
Miscellaneous
The fall Board visit is currently set for November 15.

The audit is set for October 28-30.

The Board's student achievement workshop is set for November 4 at 6:00 PM.
The meeting adjourned at 10:28 PM.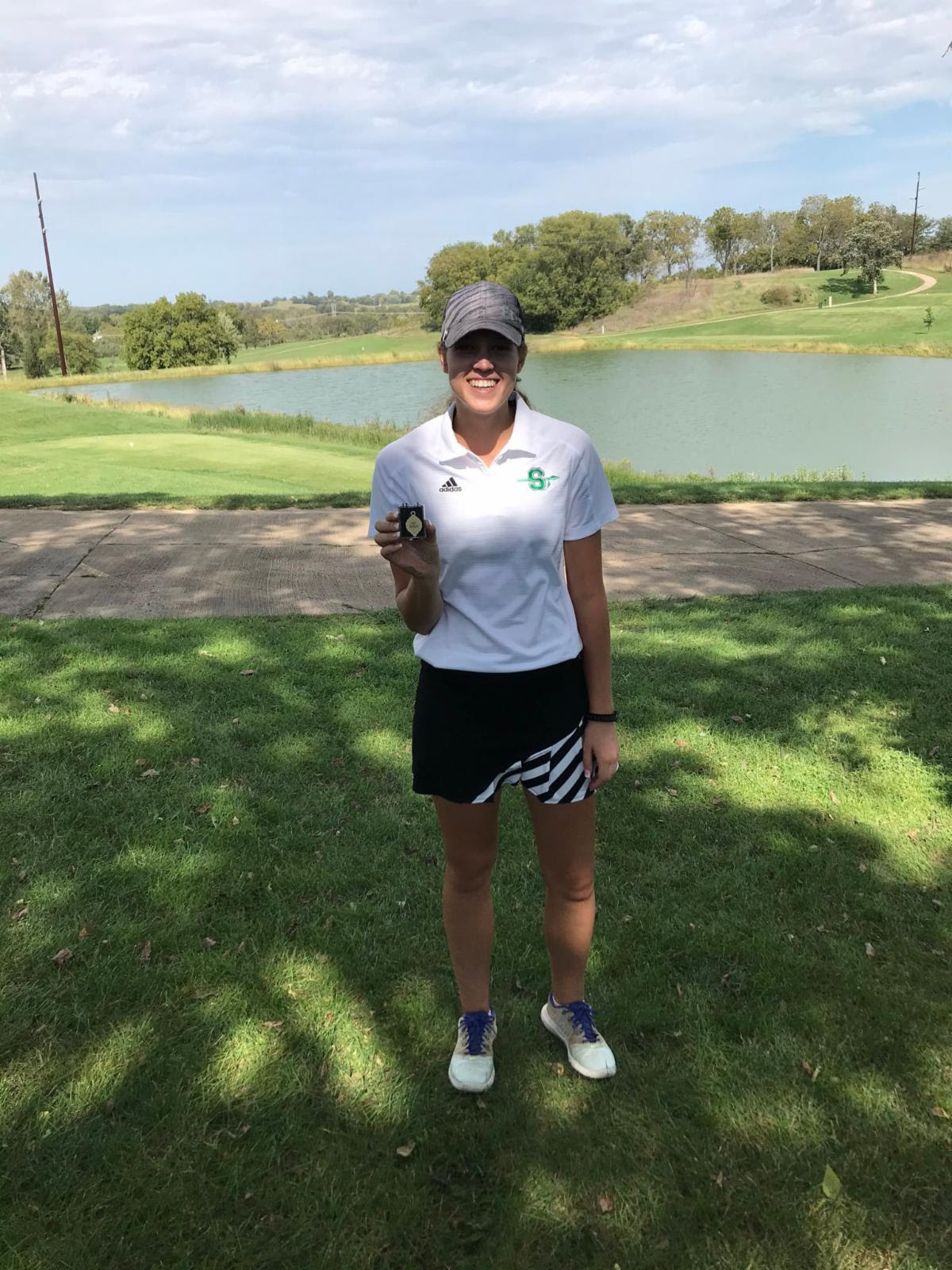 Congratulations to Mahlee Wohlford. She is the Suburban Conference "Blue" Champion in golf!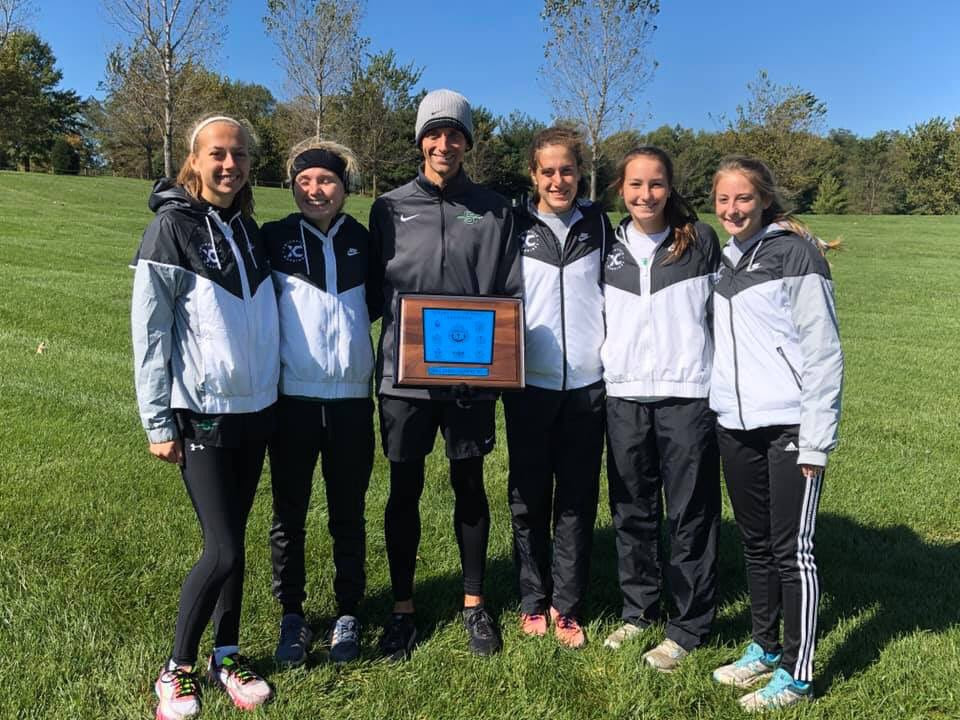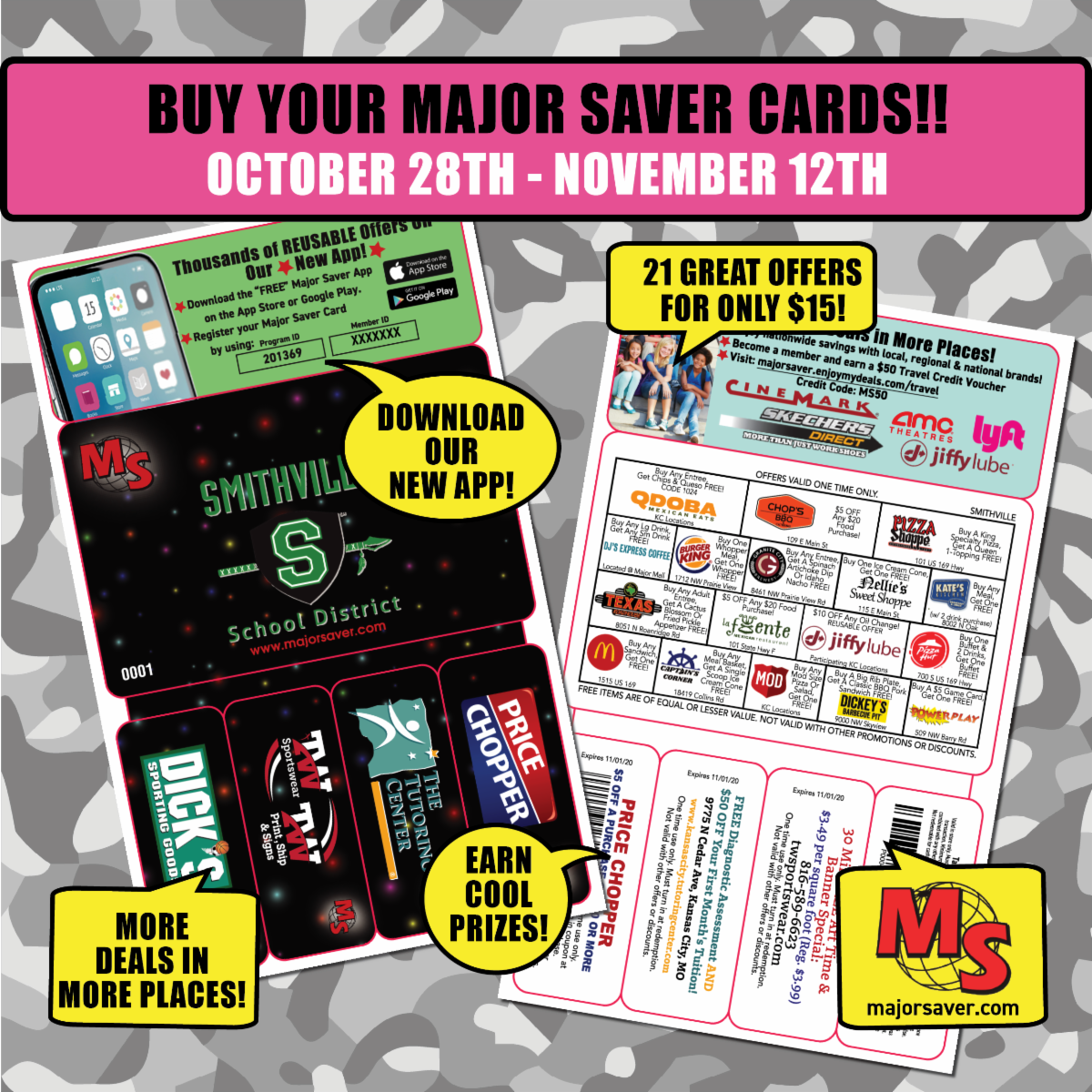 The Smithville School District Foundation discount card sales program benefits schools and patrons alike. The schools, in conjunction with Major Saver, work with businesses throughout the district to offer a $15 discount card providing the customer with 17 local buy-one-get-one-free offers. Proceeds from the card campaign go to the participating schools and the Smithville School District Foundation to help fund programs for our students, teacher grants and student scholarships.
Major Saver cards can be purchased via cash, check or online at www.majorsaver.com. The online sale can be credited back to a particular student and school. All cards purchased online will be mailed directly to the customer.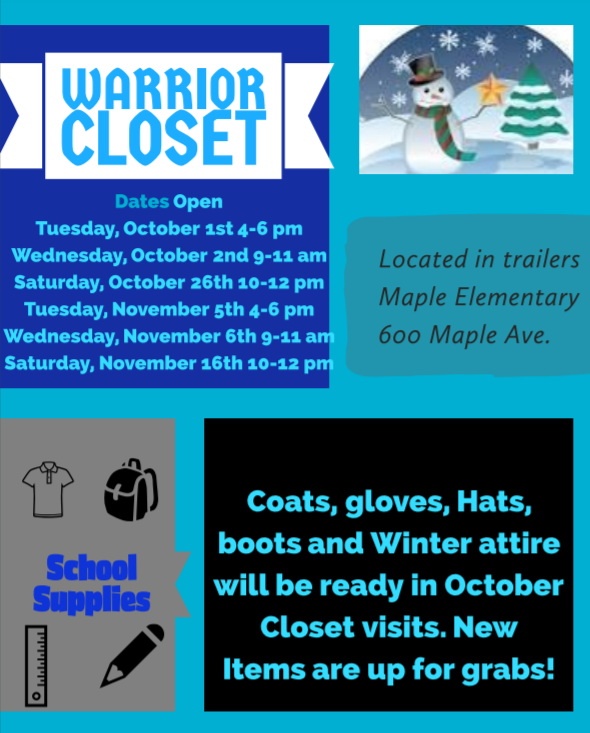 Smithville Boys Swim Fundraiser
October 19 & 30
Click the image for details.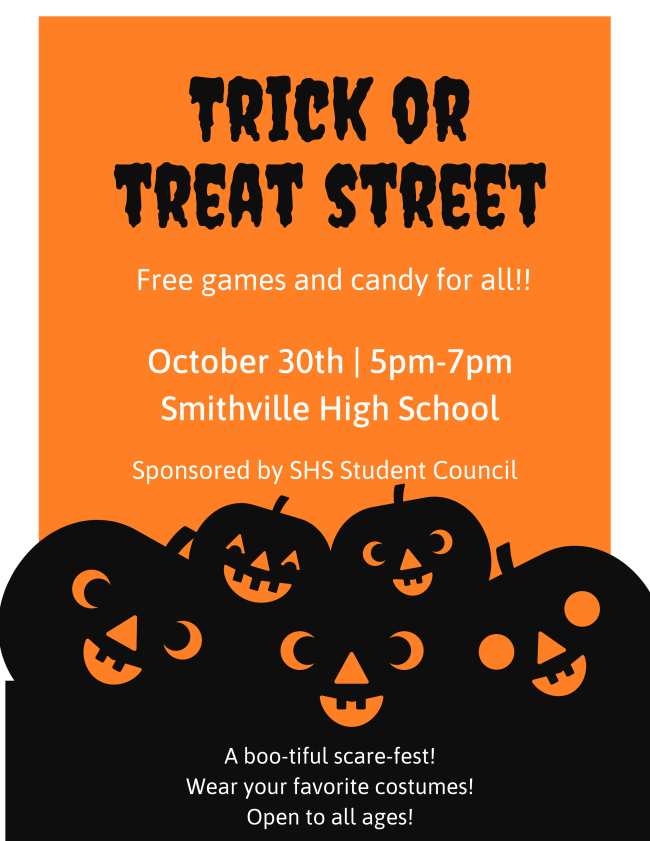 Trick or Treat Street Smithville High School October 30, 2019 5-7 p.m.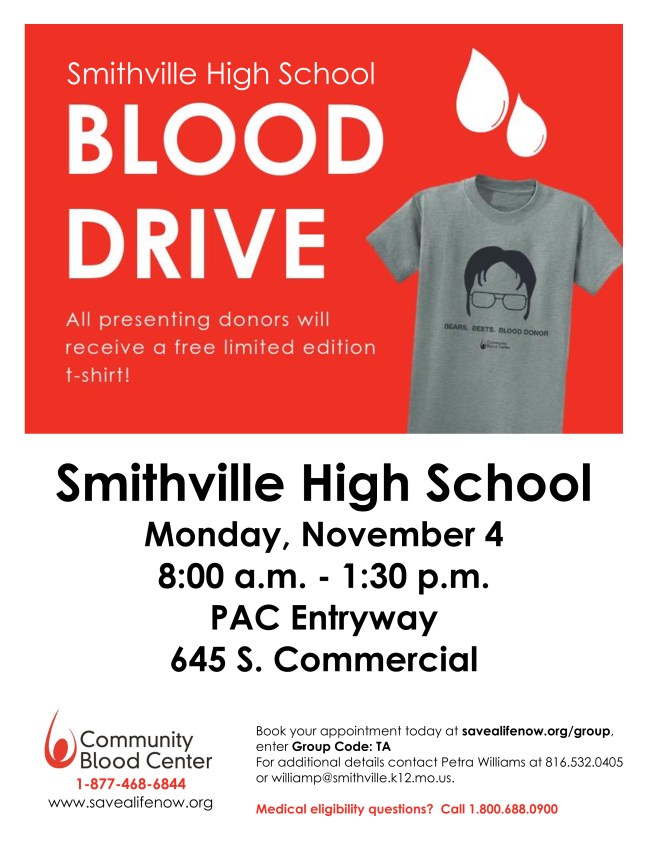 DISTRICT SPONSORSHIP OPPORTUNITIES
We are frequently approached by members of the business community wanting to promote their business to the staff of the Smithville School District. We appreciate the services local businesses offer to our community and staff and would like to work together to promote businesses while supporting the students and staff of Smithville School District.
For this reason, we provide a format to assist in the promotion of businesses through our District sponsorship program. The sponsorship dollars will assist in providing staff and student activities, services, or awards in addition to creating ways for you to share and promote your business and services.
Sponsorship and support of the District is available at various levels – bundled or separately.
To learn more about our sponsorship program, click here.
IMPORTANT DATES
October 29 - Parent/Teacher Conferences

October 31 - No School, Parent/Teacher Conferences

November 1 - No School

November 20 - Board of Education Meeting

November 27-29 - Thanksgiving Break
Smithville School District