Cadet Teaching Internship Program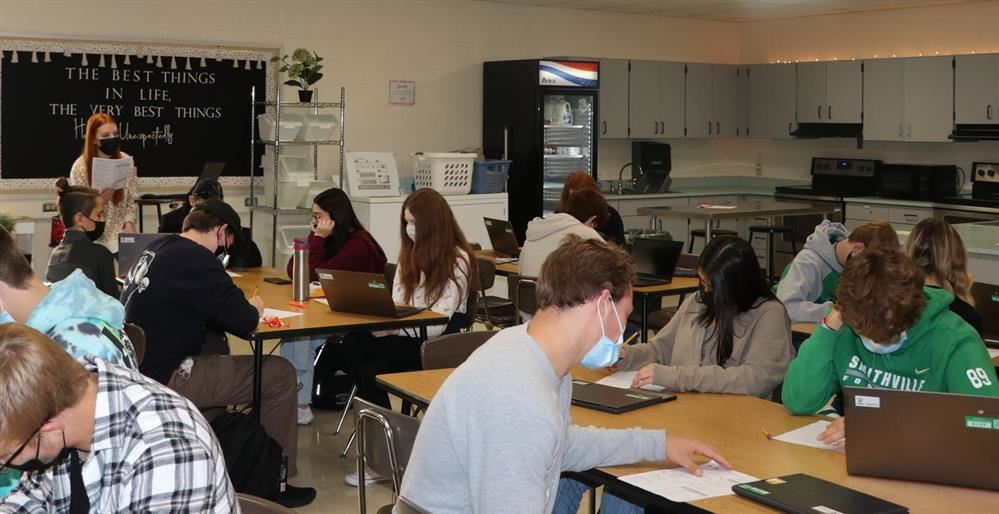 Cadet Teaching is a professional experience in which students participate in real-world learning experiences that includes classroom learning and a placement within the district in a desired grade and/or content level. Students dive into all aspects of education and being an effective teacher. Their placement serves as an internship to gain hands-on experience with students and a means to apply what they're learning about teaching. The program is a year-long program that also offers dual-credit opportunities and a chance to earn A+ program hours.
Senior, Adison Lowman (pictured) is teaching a lesson to the Nutrition and Wellness class at Smithville High School. Adison is in her second year in the Cadet Teaching Program. Lowman stated, "My whole life I had always thought of being a teacher. I can remember playing school with my friends and I had always wanted to play the teacher role!". As a junior Adison was placed in Mrs. McLaughlin's Pre-K classroom. She said, "As the year progressed and I had spent more and more time with the students I realized that what matters is what you're passionate about, and for me, that is teaching. Although with this new mindset and new want to pursue a degree in teaching, I felt like something was missing. I had always had the thought of teaching secondary FACS in the back of my mind." As a senior Adison has been placed in the FACS classrooms at Smithville Middle School and Smithville High School. After participating in this program, Lowman said, "I am so blessed to have these opportunities that I have been given to teach these classes, observe them, get a feel for what teaching is like, and get a head start in my journey to becoming an educator."
Students who are interested in becoming an educator can experience the Cadet Teaching Program by speaking to their High School Counselor.